17
Sep
Encuentro Transporte y Logística Bajío T21
Estimad@s amig@s:
Si quieren en verdad saber que está pasando en el #Bajío en cuanto a #Logística y #Transporte se refiere, es importante que asistan al 110. Foro de #Transporte y #Logística organizado por la revista T21
Les recuerdo que estaré en la mesa 6 hablando de cómo hacer sinergias en #Logísitica y #Transporte para lograr reducir las emisiones de carbono y poder obtener ahorros en sus sistemas de #Transportación…
Nos vemos este jueves y viernes…
1 abrazo!
http://encuentro.t21.com.mx/programa
——–
Dear Friends..if by any chance you are in Queretaro this coming thursday and friday, and if you are eager to know what is going on with the #Logistics & #Transportation Industry within this region, pleas come and join us to the 11th. Logistics and #Transportation conference.
I will personally will be speaking about synergies in #Logistics & #Transportation to attain a sustainable transportation and logisitcs model for your company
Looking forward to see you all there!
http://encuentro.t21.com.mx/programa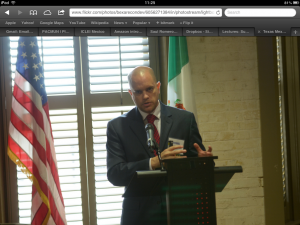 Related Articles